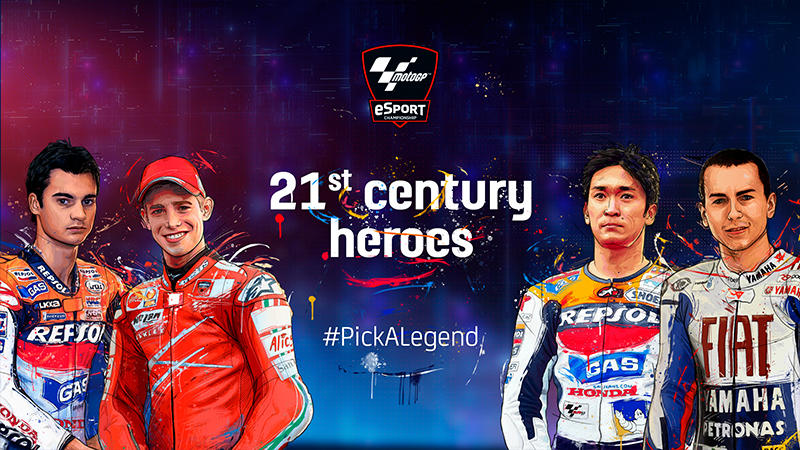 The 2021 MotoGP™ eSport Championship is ready to kick into gear with the Pro Draft penciled in to start in March. But before then fans will have their say on which famous rider and bike from the past will be selected for the year's first Online Challenge.
There will be a total of three groups consisting of legendary names from the 1990s and 2000s, both epic eras in MotoGP™ history. And there will be three votes.
The first was on 3rd February, when Mick Doohan and his 1995 Honda NSR500 got the most votes over 24 hours to be entered into a final draw. The second, held on 5th February, and including five famous names and bikes from the late 90s / early 2000s resulted in victory for Max Biaggi.
The third takes place on 8th February and to be contested between four legendary MotoGP™ names and bikes from the first decade of the 21st century.
The most popular names from each of the three votes will then go head-to-head in a final vote on 10th February. Whichever rider/bike gets the highest number across the social media channels will then be the combination gamers must use in the first Online Challenge.
The names included in the third group include five of the fastest names from the end of the start of the 21st century. The choices include: Tohru Ukawa and Honda's RC211V; Dani Pedrosa and Honda's RC212V; Casey Stoner's wild Ducati GP; Jorge Lorenzo's brilliant 2010 Yamaha M1.
Cast your votes across all of our social media platforms including YouTube MotoGP, YouTube MotoGP eSport, Twitter, Instagram, and Facebook!
Tohru Ukawa: A star in the highly competitive 250cc class of the late 90s, Ukawa regularly took on the likes of Valentino Rossi, Loris Capirossi, Daijiro Kato and Shinya Nakano (and occasionally won). His premier class career was short – just three full seasons. But he took to Honda's brilliant, new, all-conquering RC211V immediately in 2002 and scored his first – and only – MotoGP™ win in dramatic style in South Africa.
Number of MotoGP™ starts: 50
Number of MotoGP™ race wins: 1
Number of MotoGP™ championships: 0
Dani Pedrosa: The diminutive Spaniard was a triple world champion before he made his much anticipated MotoGP™ debut in 2006. He didn't disappoint, as he notched up two race wins in his first season. 2007 was supposed to be Pedrosa's year. Armed with Honda's new RC212V 800cc racer, he struggled to a distant second in the championship. The MotoGP™ crown would allude Pedrosa until he retired at the end of 2018,
Number of MotoGP™ starts: 236
Number of MotoGP™ race wins: 31
Number of MotoGP™ championships: 0
Casey Stoner: Known as one of the most naturally gifted riders of all time, Stoner only showed regular flashes of his supreme talents in the 125cc and 250cc classes without finding that knack of consistency before his MotoGP™ debut in 2006. A crash-strewn year was dotted with real quality, leading Ducati to take a risk by hiring him for 2007. It was a brilliant success, with Stoner's unreal throttle control working perfectly with the fast, ferocious Ducati GP7. He'd go on to win another title in 2011.
Number of MotoGP™ starts: 115
Number of MotoGP™ race wins: 38
Number of MotoGP™ championships: 2
Jorge Lorenzo: The Majorcan's feats across twelve years in the premier class have earned him the moniker as an all-time great. Three MotoGP™ crowns and an incredible 47 race wins tells its own story. But more than that, it was Lorenzo's style that marked him out. Few riders have been as smooth, graceful and ruthlessly precise on a race bike of this calibre and the riders he beat to each of his crowns – Stoner, Pedrosa, Valentino Rossi – says everything about the self-belief that marked him out as a star from the start. In 2010, the year of his first title, the combination of both he and Yamaha's all.conquering Yamaha M1 800 were simply irresistible.
Number of MotoGP™ starts: 203
Number of MotoGP™ race wins: 47
Number of MotoGP™ championships: 3