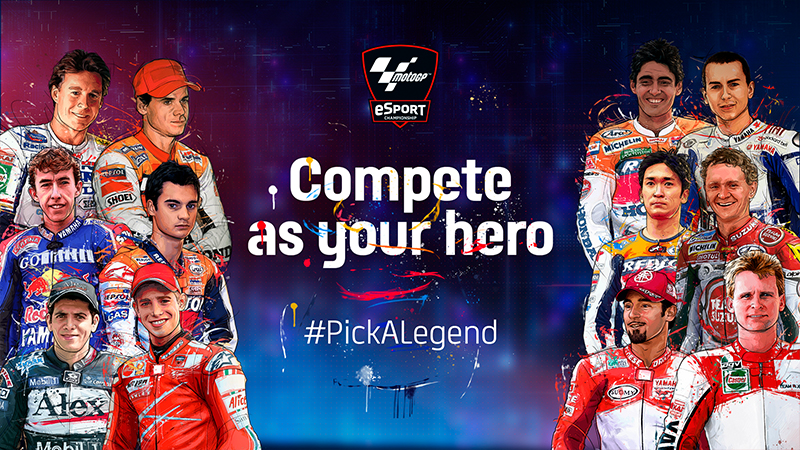 Get ready for a test with a difference! For this first time since its inception in 2017, the MotoGP™ eSport Championship presents an Online Challenge in which gamers decide on the bike and rider, with 12 legendary names from the past up for selection!
The very first Online Challenge of this season's Pro Draft kicks off on 18th March and requires gamers from around the world to post the fastest time at the legendary track of Laguna Seca as they vie for a place in the Draft Selection.
But before then fans of the MotoGP™ eSport Championship must decide which vintage rider and machine will be designated for that first Challenge. Over the course of the next week there will be three votes in which fans choose one famous name from a selection from three groups via the MotoGP™ eSport social media channels.
You could be pushing Honda's brilliant but feisty NSR500 to its limits, Yamaha's all-conquering 800cc M1 or a host of other exotic machines. Your vote could be pivotal in deciding which one!
The first vote will take place on 3rd February. You can vote from one of four famous riders and machines from the early 90s. The name with the most votes in 24 hours will be entered into a final vote.
The same will occur for the second vote – held on 5th February, and including five famous names and bikes from the late 90s / early 2000s – and for the third – to happen on 10th February and to be contested between four legendary MotoGP™ names and bikes from the first decade of the 21st century.
The most popular names from each of the three votes will then go head-to-head in a final vote on 12th February. Whichever rider/bike gets the highest number across the social media channels will then be the combination gamers must use in the first Online Challenge.
Check the progress of the votes on esport.motogp.com, and cast your votes across all of our social media platforms including YouTube, Twitter, Instagram, and Facebook!
Now it's time to think back to vintage battles of the past and decide on your favourite names from the 90s and 2000s. As a place in the Selection Draft could be on the line!