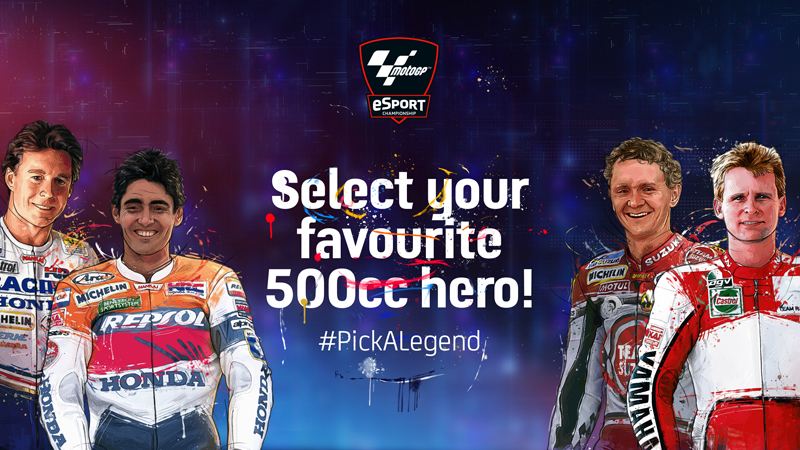 The 2021 MotoGP™ eSport Championship is about to kick into life with the Pro Draft starting in March. Before then, however, fans will have their say on which famous rider and bike from the past will be selected for the year's first Online Challenge.
There will be a total of three groups consisting of legendary names from the 1990s and 2000s, both epic eras in MotoGP™ history. And there will be three votes.
The first starts today (3rd February). The name with the most votes in 24 hours will be entered into a final draw. The same will occur for the second vote – held on 4th February, and including five famous names and bikes from the late 90s / early 2000s – and for the third – to happen on 8th February and to be contested between four legendary MotoGP™ names and bikes from the first decade of the 21st century.
The most popular names from each of the three votes will then go head-to-head in a final vote on 10th February. Whichever rider/bike gets the highest number across the social media channels will then be the combination gamers must use in the first Online Challenge.
The names in the first group will be mouth-watering for any fan of MotoGP™ history. You can choose on of: Wayne Gardner and his 1992 Honda NSR500; Mick Doohan and the 1995 Honda NSR500; Wayne Rainey, 1992 Yamaha YZR500; Kevin Schwantz and the 1993 Suzuki RGV500. Four former champions and four giants of the sport!
Wayne Gardner: His ferocious, aggressive style earned him the plaudits of fans and the respect of his peers. His second place in the 500cc championship in 1986 was soon followed up by a deserved world championship win in 1987, becoming the first Australian premier class champion in the process. A combination of injury and uncompetitive machinery prevented him from adding to that tally. But he was a real force in 1992, his final year of two-wheeled racing and one in which he scored two memorable victories: in the UK and South Africa.
Number of MotoGP™ starts: 100
Number of MotoGP™ race wins: 18
Number of MotoGP™ championships: 1
Mick Doohan: The tough Australian was on the verge of winning his first 500cc world championship in 1992 when he badly broke his leg in a qualifying spill at Assen. Complications from the injury threatened his career and led to him losing out in that particular year. But Doohan's recovery is the stuff of legend. His haul of five consecutive championships from 1994 to 1998 cemented his place as one of the all-time greats. Never was he as dominant as 1995, the first year of the now legendary Repsol Honda partnership. That year no other bike could get close.
Number of MotoGP™ starts: 137
Number of MotoGP™ race wins: 54
Number of MotoGP™ championships: 5
Wayne Rainey: In MotoGP™'s first golden age of the late 80s / early 90s Rainey was king. His blend of amazing speed, unparalleled consistency and total obsession around keeping the #1 plate carried him to three straight world titles between 1990 and 1992. There were times, such as 1992, when Rainey's Yamaha YZF500 was far from the best machine on the grid. But his focus and determination saw him overcome his machine's shortcomings to take the title anyway. A true legend of the sport.
Number of MotoGP™ starts: 95
Number of MotoGP™ race wins: 24
Number of MotoGP™ championships: 3
Kevin Schwantz: In terms of raw talent, the Tall Texan was untouchable. Oozing natural ability, Schwantz was a ferociously fast but slightly wayward figure that got pulses racing wherever he raced in the late 80s and 90s. He won races by the bucketload (25 times in fact). But he also fell. Consistency, for both him and his trusted Suzuki cost him the title in 1989, 1990 and 1991. But he regrouped and, coupled with Suzuki's best 500cc machine in years, he rode to the title in 1993, which ensures his name is deservedly alongside the other greats of that era in the history books.
Number of MotoGP™ starts: 105
Number of MotoGP™ race wins: 25
Number of MotoGP™ championships: 1
Cast your votes across all of our social media platforms including YouTube, Twitter, Instagram, and Facebook!"