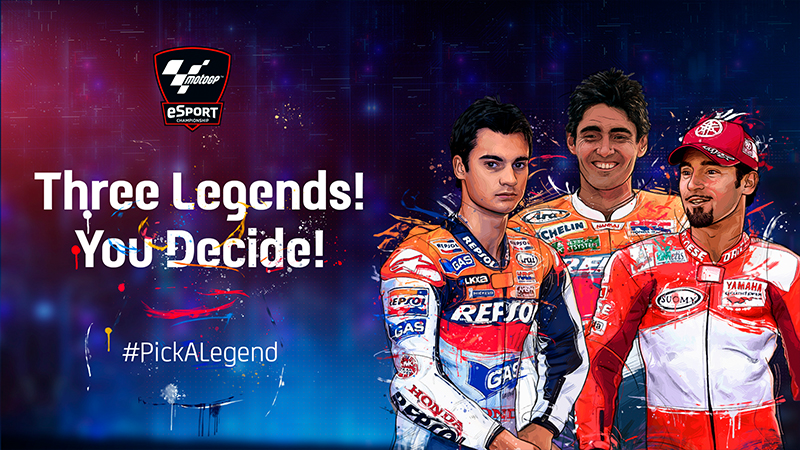 The start of the 2021 MotoGP™ eSport Championship is edging closer with the Pro Draft kicking off in March. But before then fans will have their say on which famous rider and bike from the past will be selected for the year's first Online Challenge.
In a twist for this year, you have the chance to vote for the rider you'd like to use in this Challenge. A total of 12 legendary riders from the past 30 years of MotoGP™ history were up for selection. But after three votes, that list has been whittled down to three!
And what names they are, with a combined total of five MotoGP™ titles and 98 race wins between them!
Australian legend Mick Doohan and his 1995 Honda NSR500 triumphed over other legendary names from that glorious era, including Wayne Gardner, Wayne Rainey and Kevin Schwantz in the first vote.
In the second, Italian superstar Max Biaggi and his 2002 Yamaha M1 won out in the second vote over other exalted names from that time like Alex Barros, Garry McCoy, Alex Criville and Kenny Roberts Junior.
And in the third, three-time grand prix champion Dani Pedrosa and the 2007 Honda RC212V 800 accumulated more votes than Casey Stoner, Jorge Lorenzo and Tohru Ukawa.
All of this means Doohan, Biaggi and Pedrosa will go head-to-head in a final vote on 10th February. Whichever rider/bike gets the highest number across the social media channels will then be the combination gamers must use in the first Online Challenge.
So while you are practicing your racing lines and throttle control ahead of the Pro Draft, remember to cast your votes across all of our social media platforms including YouTube, Twitter, Instagram, and Facebook!
Mick Doohan: The tough Australian was on the verge of winning his first 500cc world championship in 1992 when he badly broke his leg in a qualifying spill at Assen. Complications from the injury threatened his career and led to him losing out in that particular year. But Doohan's recovery is the stuff of legend. His haul of five consecutive championships from 1994 to 1998 cemented his place as one of the all-time greats. Never was he as dominant as 1995, the first year of the now legendary Repsol Honda partnership. That year no other bike could get close.
Number of MotoGP™ starts: 137
Number of MotoGP™ race wins: 54
Number of MotoGP™ championships: 5
Max Biaggi: Best known for his four titles in the 250cc class, Biaggi was also a brilliant MotoGP™ rider on his day. He won his first race in the 500cc class at Suzuka, 1998 and pushed the great Mick Doohan hard in that year's championship. Three years later he went head-to-head with Valentino Rossi in an epic year-long fight. In 2002 he scored two race wins on the first generation of Yamaha's M1.
Number of MotoGP™ starts: 127
Number of MotoGP™ race wins: 13
Number of MotoGP™ championships: 0
Dani Pedrosa: The diminutive Spaniard was a triple world champion before he made his much-anticipated MotoGP™ debut in 2006. He didn't disappoint, as he notched up two race wins in his first season. 2007 was supposed to be Pedrosa's year. Armed with Honda's new RC212V 800cc racer, he struggled to a distant second in the championship. The MotoGP™ crown would allude Pedrosa until he retired at the end of 2018,
Number of MotoGP™ starts: 236
Number of MotoGP™ race wins: 31
Number of MotoGP™ championships: 0
Cast your votes across all of our social media platforms including both MotoGP and MotoGP eSport YouTube Channels, Twitter, Instagram, and Facebook!